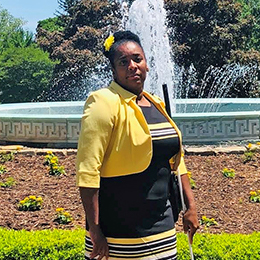 Jackie Anderson
Email: Jackiemanderson54@gmail.com
Jackie Anderson is a Teacher of Blind and Visually Impaired. She is the proud parent of five children, one of whom is blind.  She enjoys working with parents and professionals of blind children.  
Jackie holds a Bachelor of Arts in Early Childhood Education and a Masters of Science in Special Education with an emphasis in teaching blind students and early intervention services. She has also begun working toward her Doctorate of Education in the area of Inclusive Education. Jackie was named the 2013 National Federation of the Blind Distinguished Educator.
Jackie is the founder of LetsConnecTVI Resources, a company that strives to support blind individuals, their family members, and professionals in the field of blindness through training, support, and planning. Some of you may have enjoyed one of her seminars or motivational presentations.
Growing up as a blind individual, raising a blind child as well as formal educational training allows Jackie to truly understand and speaks on the subject of blindness.